Professor Dilly OC Anumba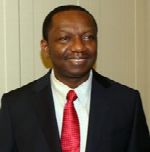 Professor Dilly OC Anumba
FRCOG, MD (Newcastle upon Tyne), LLM Medical Law (Northumbria)
Dilly is Professor of Obstetrics and Gynaecology at University of Sheffield. His research explores the physiology of pregnancy and birth, with particular focus on devices for predicting premature birth, and the immunological mechanisms of diseases (egpreeclampsia and fetal disease) that contribute to this principal cause of perinatal mortality and morbidity. Dilly investigates the assessment of the cervical remodeling that precedes premature birth, seeking to understand how this is influenced by its immunological/structural properties, andto translate such knowledge into clinical utility. A key goal is to develop means of predicting premature birth that would fit into current clinical care pathways, thus informing its prevention and mitigating its consequences.

ECCLIPPx is the research programme that explores electrical impedance spectroscopy (EIS)(), ascertaining and improving device accuracy, assessing labour inducibility prior to birth(6, 7), and more recently, generating preliminary proof-of-principle experiments exploring the potential application of EIS, amongst other techniques, for predicting preterm birth(8). The project strands are currently supported by Grants from the UK's Medical Research Council Developmental Pathways Funding Scheme (MRC DPF/DCS, £622,047.73, 2012-2016), and the Department of Health's National Institute of Health Research Invention for Innovation (i4i) scheme (£320,138.00, 2012-2015).

Selected relevant publications
O'Connell MP, Avis NJ, Brown BH, Killick SR, Lindow SW. Electrical impedance measurements: an objective measure of prelabor cervical change. J Matern Fetal Neonatal Med. 2003 Dec;14(6):389-91. PubMed PMID: 15061317. eng.
O'Connell MP, Tidy J, Wisher SJ, Avis NJ, Brown BH, Lindow SW. An in vivo comparative study of the pregnant and nonpregnant cervix using electrical impedance measurements. Bjog. 2000 Aug;107(8):1040-1. PubMed PMID: 10955439. eng.
Avis NJ, Lindow SW, Kleinermann F. In vitro multifrequency electrical impedance measurements and modelling of the cervix in late pregnancy. Physiol Meas. 1996 Nov;17 Suppl 4A:A97-103. PubMed PMID: 9001608. eng.
Gandhi SV, Walker D, Milnes P, Mukherjee S, Brown BH, Anumba DO. Electrical impedance spectroscopy of the cervix in non-pregnant and pregnant women. Eur J Obstet Gynecol Reprod Biol. 2006 Dec;129(2):145-9. PubMed PMID: 16517044. eng.
Gandhi SV, Walker DC, Brown BH, Anumba DO. Comparison of human uterine cervical electrical impedance measurements derived using two tetrapolar probes of different sizes. Biomed Eng Online. 2006;5:62. PubMed PMID: 17125510. eng.
Jokhi RP, Ghule VV, Brown BH, Anumba DO. Reproducibility and repeatability of measuring the electrical impedance of the pregnant human cervix-the effect of probe size and applied pressure. Biomed Eng Online. 2009;8:10. PubMed PMID: 19534806. Pubmed Central PMCID: 2704213. Epub 2009/06/19. eng.
Jokhi RP, Brown BH, Anumba DO. The role of cervical Electrical Impedance Spectroscopy in the prediction of the course and outcome of induced labour. BMC pregnancy and childbirth. 2009;9:40. PubMed PMID: 19725953. Epub 2009/09/04. eng.
Anumba DO, Jokhi RP, Ghule V, Healey J, Brown BH. Cervical Electrical Impedance Spectroscopy May Predict Preterm Delivery in Women at Risk. Reprod Sci. 2011;18(3):301A-A.
Other Principal Investigators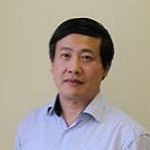 Professor Zi-Qiang Lang Professor of Complex Systems Analysis and Design
Professor Zi-Qiang Lang is Professor of Complex Systems Analysis and Design in the Department of Automatic Controls and Systems Engineering. His main expertise relates to the theories and methods for complex systems modelling, analysis, design, and signal processing, and the application of these to resolving various engineering and scientific problems. The application areas include smart structures and systems, civil and mechanical structure vibration control, structural health monitoring, condition monitoring and fault diagnosis for wind turbine components and systems, optimal periodic operation of chemical reactors, digital manufacturing, and medical diagnosis.
---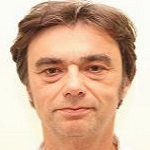 Professor Stephen Matcher Professor of Biophotonics
Stephen Matcher graduated from Imperial College London with a BSc in Physics and subsequently a PhD in optical astronomy, investigating diffraction-limited ground-based optical imaging. He translated his expertise in low-light-level imaging into medicine at University College London, where he developed near-infrared spectroscopy techniques to study tissue oxygen delivery, especially in newborn infants at risk from birth asphyxia.
He is currently Professor of Biophotonics at the University of Sheffield, where his chief research interest is the development and application of optical coherence tomography (OCT), including novel variants such as polarization-sensitive OCT & OCT angiography.
---
Co-Investigators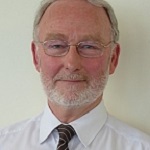 Professor Anthony T Barker Prof. Associate, University of Sheffield Medical School
Tony recently retired from the U.K. National Health Service after 38 years in the Sheffield Department of Medical Physics and Clinical Engineering. An engineer by training, he has specialised in a number research areas during his NHS career, including the effects of electromagnetic fields on the body (both detrimental and therapeutic), electrical stimulation of nerves, Functional Electrical Stimulation and medical device development. Tony led the group which invented the technique of Transcranial Magnetic Stimulation, now widely used throughout the world for basic research, diagnosis and therapy, and also the group which developed the first self-optimising, array based FES stimulator for foot drop. He has sat on numerous professional committees and, for 25 years, chaired the Biological Effects of Low-Level Electromagnetic Fields Policy Advisory Group of the Institution of Engineering and Technology. Tony has an active interest in the public understanding of science and has given many named and public lectures including the Faraday lecture series, the Silvanus P Thomson series and a Royal Institution Discourse.
---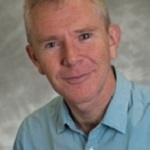 Professor Simon Dixon Professor of Health Economics
Professor Dixon is Health Economist with vast experience evaluating the cost-effectiveness of health care interventions in large clinical trials.
---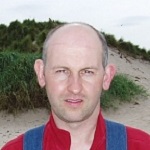 Professor Stephen Walters Professor of Medical Statistics and Clinical Trials
Professor Stephen Walters is a medical statistician with over 20 years' experience of designing, analysing and reporting the results of a variety of studies including, randomised controlled trials, observational studies and surveys. He has over 220 publications (including 133 in refereed journals and 3 books). He has been a co-applicant, statistical advisor and collaborator on numerous health services research projects (over 50 funded projects with a total value of £27.1 million). Stephen will be involved in the statistical analysis and reporting of the diagnostic accuracy data from the Electrical Impedance Spectroscopy (EIS) device to predict pre-term birth.
---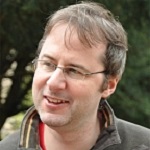 Dr Graham Stafford Senior lecturer in Microbiology (non-clinical)
Graham is a Senior Lecturer in microbiology based in the Dental School in Sheffield. He gained a PhD (Warwick) in 2002 before spending five years at Cambridge. He is the lead researcher for the microbiome sub-study within Ecclippx where cutting edge DNA sequencing approaches are being used to examine if there is a microbial signature associated with risk of pre-term birth which could contribute to improved diagnosis.
---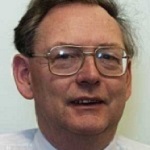 Professor Brian Brown Emeritus Professor of Medical Physics
Professor Brown has had a life-long career researching of bioimpedance and its clinical application. Being a world authority with several hundred publications to his credit, his work informs the device prototype for cervical cancer screening, currently being evaluated in EU-wide clinical trials. He holds several EIS patents.
---
Core Delivery Team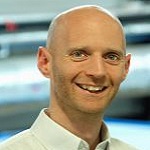 Dr Marcus Crossley Senior Project Manager
Marcus Crossley is a Senior Project Manager within the University of Sheffield AMRC Design & Prototyping Group. He has over 7 years' experience of R&D project scoping and management, and 13 years' industrial experience as a Technical Director and Industrial Designer within the healthcare manufacturing sector, designing and bringing products to market. He has managed a wide variety of R&D projects within the medical / healthcare sector, including mechanical engineering, AM and generative design, and has experience of EPSRC, Innovate UK, MRC funded projects. Marcus is a graduate from Sheffield Hallam University with a BA (Hons) Degree in Industrial Design (Product), a Level 4 Management NVQ, and a Masters in Design Innovation Strategy.
---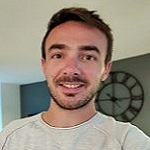 Dr Ross Eaves Mechanical Design Engineer
Ross Eaves is a mechanical design engineer within the University of Sheffield AMRC Design & Prototyping Group. Ross has previously worked for big brand consumer product companies and has extensive experience in bringing products to market having often worked in the far east for the design and set up of mass manufacturing. In collaboration with the Department of Clinical Engineering Ross contributed to the progression of the most recent prototype versions of the cervical EIS probe. Ross is a graduate from Loughborough University with a Bsc (Hons) Degree and Diploma in Product Design & Technology.
---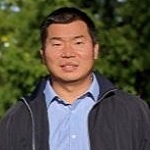 Dr David Tian Research Associate
Dr David Tian is a research associate working on the EPSRC-funded project in preterm birth prediction from cervical electrical impedance spectroscopy at the Department of Automatic Control and Systems Engineering, University of Sheffield. He received a Ph.D. in Computer Science from The University of Manchester in 2009 and has a background in machine learning, AI and data science. He has been working on interdisciplinary postdoc research involving applying machine learning to healthcare and engineering for over 10 years. He has 18 publications at journals and conferences in machine learning and AI. He has served as reviewers of journals and conferences.
---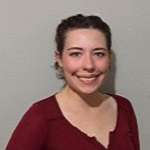 Dr Sophie Hooper PhD student in the Biophotonics Group
Sophie Hooper is a PhD student in the Biophotonics Group at the University of Sheffield. Studying under Prof Stephen Matcher and Prof Dilly Anumba, her research focuses on the use of polarization-sensitive optical coherence tomography to predict spontaneous premature birth.
Sophie is a recent graduate from the University of Strathclyde, where she graduated with an MEng in Biomedical Engineering. Here, she developed a keen interest in engineering applications for obstetrics by researching ways to improve surgical safety in laser ablation therapy for twin-to-twin transfusion syndrome.
---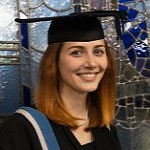 Dr Laura Wharton NIHR Academic Clinical Fellow
Dr Laura Wharton is an NIHR Academic Clinical Fellow and Specialty Registrar in Obstetrics and Gynaecology. She is responsible for the day-to-day conduct of the study investigating the use of MIS to assess cervical changes in women with multiple pregnancies.
---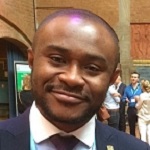 Dr Emmanuel Amabebe Research Assistant
Emmanuel completed his PhD in Reproductive and Developmental Medicine at the University of Sheffield in 2016, where he investigated the cervicovaginal fluid metabolite and microbiomial profile patterns that predict preterm birth, as well as exploring key pathophysiological mechanisms of inflammation-associated preterm birth. His current role is to, along with the ECCLIPPx team, facilitate the validation of novel techniques/devices for accurate prediction of premature birth and applications for their regulatory approvals for use in clinical practice to assess the cervix and vaginal microenvironment in pregnancy.
---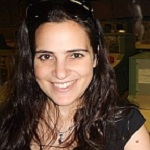 Dr Brenda F Narice NIHR Clinical Research Fellow
Dr Brenda F Narice is an NIHR Clinical Research Fellow and a Registrar in Obstetrics and Gynaecology (O&G) at Sheffield Teaching Hospitals NHS Foundation Trust. She has recently completed an NIHR Academic Clinical Fellowship in O&G and a Masters in Clinical Research at the University of Sheffield. She is particularly interested in the process of cervical remodelling in pregnancy. Her daily duties include increasing patient and public involvement (PPI) throughout all stages of the study, recruiting participants, collecting and analysing data and disseminating results.
---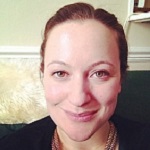 Dr Victoria Stern Clinical Research Fellow
Dr Vicky Stern is the MRC Clinical Research Fellow and a Senior Speciality Registrar in Obstetrics and Gynaecology. Vicky has taken time out of her clinical postgraduate training to complete a period of clinical research. She has a particular interest in Fetomaternal medicine. She is responsible for the day-to-day conduct of the study, recruiting patients, conducting study visits and collecting data.
---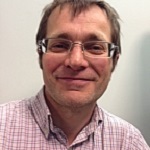 Dr Jamie Healey Clinical Scientist - Sheffield Teaching Hospital
Dr Jamie Healey has had a 20 year history of bioimpedance research and had designed and co-ordinated the manufacture of the EIS devices for the birth application, and also collaborates on the development of the pre-cancer application.
---
Management Support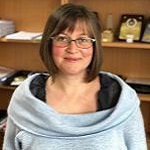 Dr Evy De Leenheer Project Manager
Evy is a dedicated cross-faculty Translational Research Project Manager and has direct experience of managing a range of translational projects funded by the MRC, NIHR and other UK funders. More recently, she has also project managed several large international projects which required bringing a personal touch to the projects, managing stakeholders of various cultural backgrounds, and understanding different needs, especially during the COVID pandemic.
She provides pre/post award support to the PIs and contributes towards the project management of the ECCLIPPx project. She has a background in Cancer Biology and Immunology and previously actively contributed to several translational research projects at The University of Oxford, Cardiff University, The University of Sheffield, and Adjuvantix Ltd.
---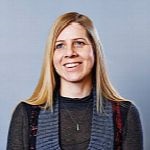 Dr Jen Carlring-Wright Business Manager, Sheffield Healthcare Gateway
Jen completed her PhD in Tumour Immunology after which she worked as a research scientist on several pre-clinical projects in the immunology and oncology field at the University of Sheffield. Jen has three years' experience working as a project manager for the biopharmaceutical spin out company Adjuvantix Limited, where she managed multidisciplinary collaborative research and development projects. In the Faculty of Medicine, Dentistry and Health Jen is the key contact for the following departments:
Oncology and Metaoblism
School of Health and Related Research (ScHARR) - Public Health
Dentristry - Person centred and population oral health
---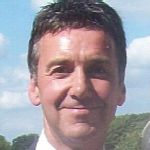 Mr Andrew Humphries Quality Manager for Clinical Engineering
Andrew started in Medical Physics in January 1989 as an Electronics/Clinical Technologist. He participated in the design and development of various electronic medical devices including the precursors to EIS.
Clinically over the years he has been involved in:Respiratory function testing
Sleep studies
Nerve conduction studies to detect Carpal and Tarsal tunnel syndromes
Spinal cord electrophysiology during Scoliosis correction surgeryLatterly Andrew became the Quality Manager for Clinical Engineering - administering the Quality Management System and overseeing Medical Device Regulatory Compliance.
---